Thoughts about the Allentown Show
I made a short visit to the Lehigh Valley Miniatures Show in Allentown, PA yesterday where I purchased some ceramics from Karen Aird. I was in and out in less than half an hour. The show is small and I noticed several empty tables in the middle and back aisles.
The admission is only $5 but it irks me to pay to see such a vast quantity of Bespaq and other things made in China. I would estimate that more than half the dealers were selling cheap imported furniture at this show. Sometimes it was repainted or reupholstered but I still don't consider that "artisan" furniture.
Aside from Joan Grimord and her needle punch rug kits, there was no IGMA Artisan or Fellow there selling their own work. Three dealers were reselling some artisan furniture and that is where I focused my shopping. Lockwood Tower offered their usual overpriced merchandise and as I passed by, I saw she had a Gail Steffey chair priced at $600 that Gail used to sell in the $300-400 range and still sells through her daughter's ebay site for about that much. And don't even ask me how much she wanted for her William Clinger chairs.
It seemed like the majority of tables were stocked with inexpensive imports and the few people selling their own work were offering things that are fine for children and novice collectors - and that is probably the target audience for this community. It's a legitimate market because we were all neophytes once and someone has to offer reasonably priced merchandise for inexperienced collectors. But it is worth noting that the few dealers offering better quality merchandise were doing a brisk business and there was plenty of room for more.
I remember the quality artists who used to sell at this show years ago and the fact that this show even survives at all says something about its organizers' and promoters' devotion to miniatures. I want to keep shows going but I want to have more choices when I go and I DON'T want to see Bespaq everywhere I look. I can see plenty of that in any miniatures shop. When I go to a show, I want to see something special I won't find in a shop; that's why I pay for admission.
I also think that when novices see grossly inflated prices for artisan furniture from dealers like Lockwood Tower, it may discourage them from aiming a little higher and seeking to improve the quality of their collection. Artisan furniture may seem unattainable when they are confronted with prices sometimes twice or even triple the price for which the artist is sells them. And that hurts all of us, eventually. [10 July 2017]
Return to Castine 2017
I wasn't too keen to return to IGMA School after my initial experience last year. I had come away with mixed feelings about the week (see my comments below) but no one wants to be called a quitter, right? So I decided to give it another try. This time I really wanted to learn a new skill and not just make something I wanted to take home for my collection, and when I enrolled in Mark Murphy's class I accomplished both objectives.
I had planned to take Mark's class at the Guild show last year (making a bannister-back chair) but the class was cancelled shortly before the show because it was under-subscribed and also Mark had injured his hand. I had been very disappointed by the cancellation so I was pinning all my hopes on getting into his class at Castine. It was my first choice and I was thinking I might not go at all if I didn't get in, so I was especially pleased when I was notified that I had a place in his 36-hour class. I also liked the fact that it started later in the morning so I could enjoy sleeping a little later and having a relaxed breakfast each day.
I also changed my accommodations from the previous year and stayed in different housing on campus. Instead of the cinder-block undergraduate dorm, my husband and I were more comfortably housed in a two-room suite in a section of housing reserved for graduate students that was also closer to my classroom. It was a more expensive option and the beds were just as uncomfortable, but we had a little sitting room so my husband could stay up late on his computer without disturbing me when I chose to go to sleep earlier. It also had a far more spacious shower and a small kitchenette with a fridge, so we had cold drinks whenever we liked and had a lot more windows we could open on the few days when it was really hot.
In Mark's class, I learned to operate some machines I had never used before and marvelled at the way they made it faster and easier to cut rabbets and make moldings than I had done previously with my table saw or Dremel tool. I had some previous experience using a full-sized lathe and was surprised at how easily it translated into miniature. But beyond mastering the mechanics of construction, Mark taught me the benefits of taking my time to file and gently sand everything to a higher standard than I would have on my own and what a difference that makes. I felt like I came away with more confidence in my work, but also I now demand better from myself. And I think that is the result of working with an exceptional teacher.
I found the classroom somewhat cramped and crowded. There were multiple lathes, milling machines, scroll saws and table saws and it was really loud when everything was running at once. And the class was over-enrolled because Elizabeth Gazmuri's class was cancelled just before school started when she had a medical emergency and her students were added to several classes that were already full. So there were times when I had nothing to do while waiting for a machine to become available or for everyone to complete a portion of the piece. Also, when Mark was giving verbal instructions or demonstrating a technique, it was hard to see what he was doing and to hear him if you weren't right next to him. Many of the machines were clamped to folding tables and I came home with multiple bruises on my hips and thighs where I bumped into the clamps while trying to squeeze around people to get to machines.
The course description said we could expect to finish construction of the piece but that finishing would be done at home. Between the overcrowding and the need to make some time-consuming adjustments when the stretchers didn't exactly line up with the base of the cabinet, we weren't able to complete the drawers by the end of the week. Mark felt very badly about this and on the last day he announced that he would make everyone's drawers and mail them to us after school was over. I felt pretty frustrated by this and when I got home, I finished the drawers on my own. I don't know if the others students have their drawers yet.
My husband visited me in class several times during breaks to examine the equipment we were using and before we left Castine, he had already gone online and ordered a mini-lathe and milling machine for me. I've played with the lathe while wondering where in the world I am supposed to put the other equipment he bought me.
The food was much the same as last year, and we skipped the live auction. The dining hall where they hold the auction was very hot and the offerings were not quite as good as last year's. I spent my money instead at the salesroom Thursday night and came home with two of Mark's chairs and several items from Mary Grady O'Brien.
People were noticeably friendlier towards me this time so it didn't feel as much like high school as it did the first time I came. And I noticed an improvement in the way that first-timers are identified on their ID badges. Last year, my badge had a small sticker on it to indicate I was a "new girl". You had to stand right in front of me to see that on my badge. This year they gave the newbies a badge that was a different color from all the others so you tell from much further away if someone was new and that made it easy to be more welcoming. Good idea.
So here is what I made in Guild School this year: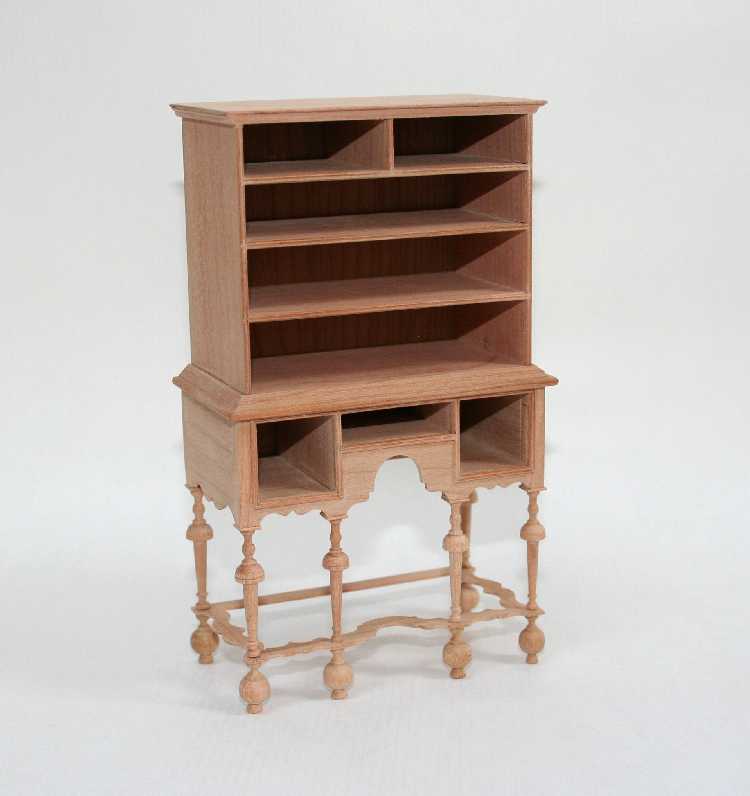 Here's how my piece looked at the end of my week of classes. It is crafted from maple with all parts made in class including the double-bead molding that surrounds the drawer openings.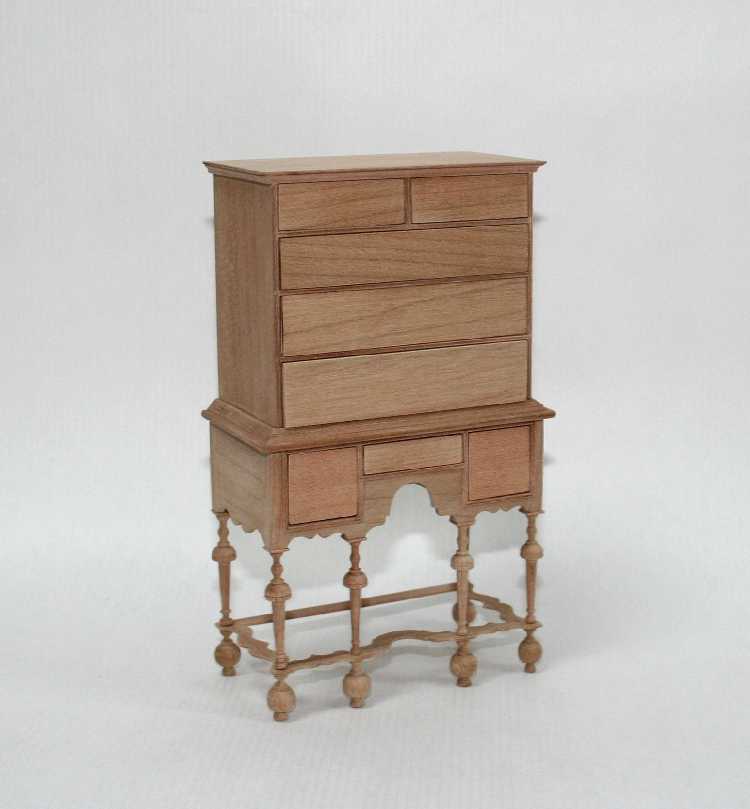 I made the drawers at home from the lengths of cherry we had mortised in class. I was not a fan of the cherry wood as the color and grain varied a lot.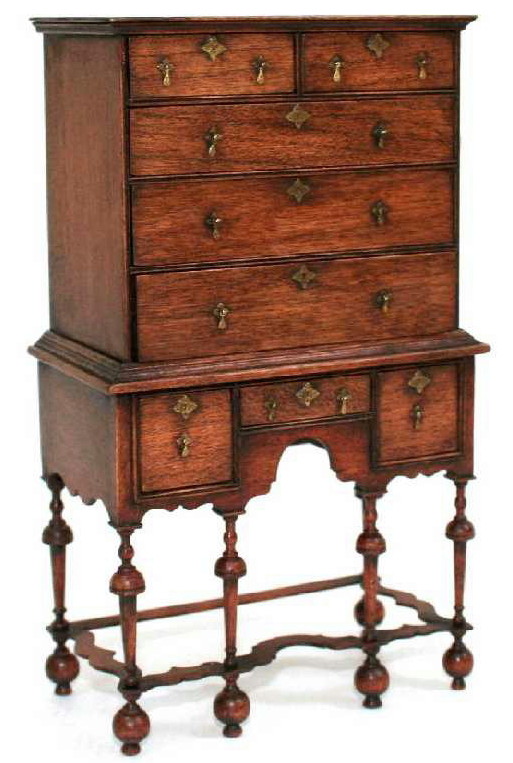 I spent two days applying the finish to the cabinet with a lot of effort devoted to making it look antique. It took three hours to attach the tiny tiny hardware after the finish was applied and it was pretty exasperating at times. But I really do love it!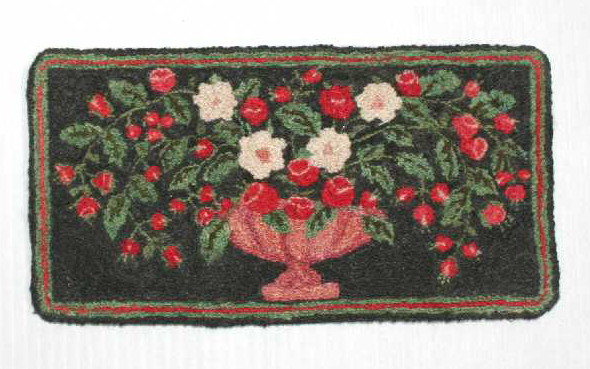 I started this French knot rug the day I arrived at Castine and completed it the week after I got home. It's the first time I used a specific antique rug as the model, with some modifications. I found it very relaxing to stitch in our little apartment when I was not in class and it seemed to go very quickly. It is the tenth rug I have made since I took the class with Pat Hartman the previous year. [10 July 2017]
Some thought about recent stories in the media
Dollhouse miniatures have received some attention from mainstream media recently with an article appearing the Wall Street Journal last week and the announcement that Winterthur is going to display a huge dollhouse during the holidays that was gifted to them by the estate of a woman in Connecticut. Social media has picked up on these stories and my facebook pages have seen them reposted on an almost daily basis. I believe any mainstream media publicity about dollhouses and miniatures is a good thing in general, but I do have a couple of issues with these stories that I've been considering and discussing with cohorts.
First, the Wall Street Journal article. I heard about this story last month from someone who was contacted by the author while it was being researched and prepared and I was sort of perturbed by what I heard about the author's queries and the sort of story she was clearly trying to promote. She wanted to draw some sort of parallel between the markets for dollhouses and full-sized houses and wanted to devote a lot of attention to the most expensive houses she had heard about. So she was contacting auctioneers and people she had heard about who paid big money for their dollhouses. One of the houses she was most fixated upon was Elaine Diehl's Astolat. Some of you may recall when it was displayed in New York last year prior to being offered at auction. The hype about the house at that time was that it was valued at seven million dollars yet it failed to sell and is still looking for a buyer or another venue where it can be offered for sale. Curiously, no one seems to know where that ridiculous number comes from. I assumed it was provided by the owner (no responsible appraiser would have assigned such an outlandinsh value to it) with the hopes that the ridiculously inflated figure would somehow draw wealthy would-be buyers to the auction, who might not recognize the inexpensive Petite Princess and Sonia Messer furniture that decorated some of the rooms, or the poorly applied moldings and wallpapers. At the time, I thought is was so insane that it was actually funny. But then when this writer started calling people and asking about this multi-million dollar house last month and buying into the hype, I started to feel a familiar concern about what happens when people who don't know much about miniatures start to carry on about crazy prices. They get other uninformed people to think that if that house is so valuable, then their dollhouse might be worth a lot as well.
Here's the thing: There is almost NO market for second-hand HUGE dollhouses. Outstanding antique houses like those sold at Noel Barrett's auctions in the past ten years have an historic value that doesn't really have anything to do with what someone paid for it years ago, or what the value of the silverware or dolls inside it might be. Truly wonderful antique dollhouses have an historic importance that outweighs the actual monetary value, and they are a completely different animal when compared to something like Astolat or the insanely over-priced Broel houses on ebay that have found no buyers for YEARS.
Huge dollhouses custom-made for specific collectors are problematic when they come to the secondary market. They almost always reflect a particular vision of the owner and often have no or very limited appeal to anyone else, and there are fewer and fewer collectors who have either the room or inclination to purchase something as big and ungainly as Astolat. An entire generation of older collectors have reached an age where they now want to pass on their houses and contents in the marketplace they are having very limited success in doing so.
Despite all the hype that attended the sale of Cookie Ziemba's collection at Hindman's two years ago, most of her houses sold for a small fraction of what she paid for them and I fear some of the English houses cos tore just to ship them to the State than were paid for them at the auction. Her big houses were prohibitively expensive for anyone to ship to a new home and that's just one reasons they did poorly. The pool of potential buyers for these houses is so much smaller than it was ten or 20 years ago when the houses were first commissioned. SO many museums that might have been interested 20 years ago are either closed or no longer willing to spend a lot of capital when their other expenses are growing by leaps and bounds. Many museums refuse donations unless they come with a trust fund for their upkeep, which I suspect may have been the case with the Winterthur house. So without the museums in the potential buyer pool, there are very few private collectors who want to buy someone else's monster house, especially when it is filled with so much commercial furniture like those Broel houses in New Orleans. It is hard to fathom how they come up with the values they place on them but for that one universal myth so many poeple cling to: that what they spend is what it's worth.
People really need to understand that new dollhouses, especially commercial ones, are like new cars in that they lose a lot of value as soon as you bring them home. When you go to resell them, you are NOT going to get an amount of money anywhere near what you spent. This also true when it comes to commercial dollhouse furniture and a lot of more common artisan things as well. Unless you buy only the very best and most rare artisan work, you should not be looking at your collection as some sort of investment. Seriously. You can spent a LOT of money of your stuff, but it doesn't mean it will hold or increase in value. NONE of the mass media articles ever mention this fact, and I feel they actually encourage people to think of all miniatures as investments. No, no, NO.
I still shudder when I recall a visit to another collector's house where she extended her arm outward to present the vista of her multi-room collection and said "This is my 401K". It doesn't work that way, and irresponsible newspaper articles only promote this fallacy.
I was actually relieved when Astolat was never mentioned in the article when it finally appeared in print, but I was appalled at the amount of space devoted to the House Broel collection. Mulvany and Rogers deserve all the good press they gather, but touting this mediocre collection in New Orleans really annoyed me. The same Lawbre house they want $85,000 for on ebay sold for only $2000 at auction in May - unfurnished, yes - but the same model house. Listen up, folks. Your Lawbre house is NOT going to increase in value even if it is a limited edition, just like your LE Olszewski figurines are worth only a small fraction of what you paid for them back in the 1990's. When commercial ventures create things for the sole purpose of being collected, you should be very very cautious. Look what happened to Longaberger.
As for the house at Winterthur, my impression is that this is another huge house designed for a specific taste and while the quality of the furnishings is better than anything you see in the Broel houses, I can't imagine this house selling for very much at auction, so it was probably a good move for the estate to donate it and take a tax credit. I'm surprised they found a place as prestigious as Winterthur willing to take it unless it came with a nice endowment. I can't help thinking that I know a lot of other houses better than this one that would be more appropriate to that venue, but it's fate is going to be better than the huge house house I bought last year from Mary Kaliski's collection. Mary's family said she paid $20,000 for it. I bought it for $200 when it failed to sell at auction. It cost the auction house more than that just to pick it up from her home in Long Island and bring it to the auction hall. No wonder so many auctioneers are hesitant to accept big dollhouses for consignment.
I have read the Winterthur interns' blog about cleaning and "restoring" the house for display and had a chuckle over their self-congratulatory posts when they figured out how to do things that miniatureists have known how to do for decades. And I think the clumsy way they wired up the pictures to hang on the walls totally distracts the viewer. Yes, they figured out that wax and Blu-tac are no-no's, but thjere are much better ways to do it had they just asked somebody. It's funny. (9.14.2016)
My very first experience with Guild School in Castine - June 2016
Well, I finally did it. For years I had wanted to attend Guild School but when it came time to sign up and send in the check, I always found some more pressing use for that money. Also, I'm not a fan of long distance driving. But this year I finally took the plunge and a few days before classes commenced, my husband and I began our trek from the woodlands of western New Jersey to mid-coastal Maine. We broke our journey with a stop in Essex, MA and took a day to visit Cogswell's Grant (wonderful) and the Wenham Children's Museum (not wonderful) and enjoyed some very nice restaurant meals before completing the drive to Castine. We were lucky to have nice weather during the journey and I really didn't mind that it was cool and a little rainy for the first four days of classes after we arrived. Better to have cool weather than be uncomfortable in heat. My husband accompanied me as a "guest" who did not take classes but stayed in the dorm with me and shared meals in the cafeteria. He was supposed to be relaxing but actually ended up spending a lot of time on the TWO computers he brought with him, working remotely away from his New York City office even though he was supposed to be on vacation. But I didn't have to hear him complain of being bored!
The Guild sent out helpful materials well before our departure but we were still pretty confused when we got there and didn't know where the entrance to our dorm was, where we should park or how to find the elevator to get our stuff up to our room. So it took us a good hour to find our way and get settled. I had read a warning about the spartan dorm accomodations and suggestions about bringing extra padding for the mattresses, so I was glad I brought a foam cot mattress with me, even though I looked ridiculous hauling it into the elevator and into our room. I felt a bit like the Princess (and the Pea) sleeping on two mattresses but it was worth the hassle. I also brought my own over-sized bath towels but wish I brought my own toilet paper - ouch!
I was somewhat overwhelmed by how many students and teachers populate that week of classes. Judging from the crowded cafeteria, I suppose there were somewhere between 200 to 300 people there when everyone gathered together for things like the Lobster Cookout and the final Friday night "banquet". I later learned I was one of about 30 first-timers there, and as I mentioned to a few people, there were some times when I really felt like an outsider as people often seemed to gather in little groups of familiars. My husband and I made an effort to be friendly among so many strangers and I found some folks were very welcoming while others were pretty wrapped up in their own groups of friends. Sometimes it felt a lot like high school...
I wasn't a fan of the cafeteria food. I liked breakfast the best because I could order an omelette with all the things I like in one and there was always fresh fruit. The food service workers were exceptionally friendly and helpful at all times. Our first few dinners were overcooked but I felt the food got better as the week progressed. Some people said they liked the food. There certainly was plenty of it!
Students can attend up to 48 classroom hours of instruction but I chose to limit myself to 36 and was glad I did. I found myself very tired the entire week as I'm not normally an early riser and my first class started at 7:45 AM every day! I signed up for two classes. My 24-hour morning class was painting children's chairs with Mary Grady O'Brien. I've been a fan of Mary's since I bought my first tole deed box from her in the 1970's and I was so pleased that I was able to enroll in her class. We had three different miniature chairs by Mark Murphy and although I thought we were going to be able to choose the background colors for our chairs, they came pre-painted in brown, apple green and a medium grass green and they looked so cute when we opened our little round custom-made boxes and extracted our chairs. After a few days of class, it was apparent that 24 classroom hours was probably twice as much time as was needed. I finished my chairs on Tuesday and Mary was very kind to let me paint a fourth one. Other people painted frakturs after they finished their chairs on Wed. or Thursday. I skipped class on Thursday and did needlework in class on Friday. I realized that rather than choose a class because I wanted to take home that finished product, I should have chosen something that was new to me so I would learn new skills and maybe discover a new passion. I am still glad I was in Mary's class and we had a great time recalling the artists we had known in the 1970's. I did become more comfortable working with oil, and learned that one can hasten the drying process using a toaster oven set at 200 degrees!
These are the chairs I painted. The painted patterns on the green chairs copied the examples, but with Mary's encouragement, I painted my own designs on the brown and yellow chairs.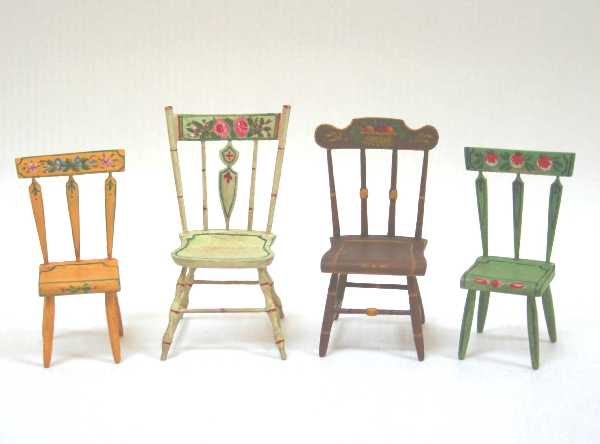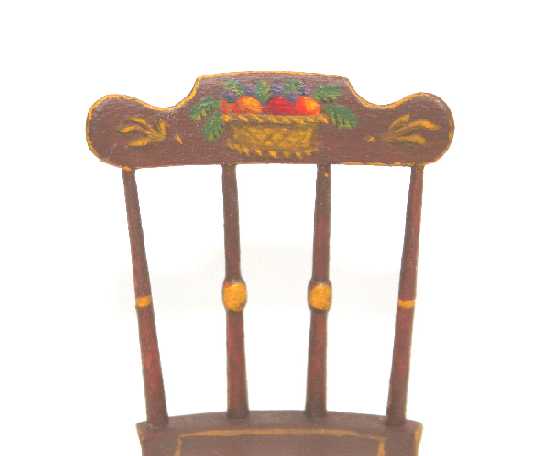 I based this basket design on a traditional theorem design from one of my favorite books.
My other class was with Pat Hartman and I finally learned how to make a French knot! I had tried to teach myself from books and videos but finally seeing Pat do it and explain what she was doing with her other hand, it clicked for me and I was off to the races. On the first day, Pat said nobody finishes their little knotted rugs during the school week. Not only did I finish my rug, but I nearly completed a second one. I was lucky to have an upholstered sofa in the hallway outside my dorm room, opposite a sunny window, so when I wasn't attending an evening program, or relaxing before dinnertime, I worked on my rugs. I found it so relaxing at the end of the class day, and now that I'm home, I'm already working on my next rug. Using the French knot method to simulate a "hooked" rug renders a finished product that looks more realistic to me than a petitpoint carpet. While intricate patterns and tiny, tiny stitches are a marvel, petitpoint makes a rug without a nap so there is always that tiny barrier to suspending belief. Who knows? I might never make another petitpoint rug again...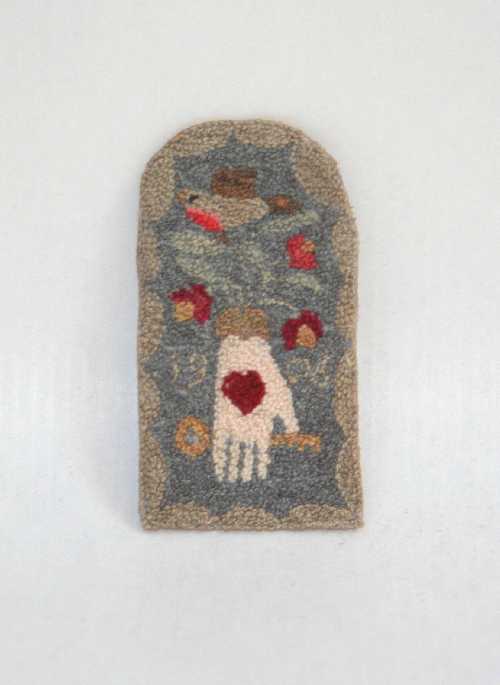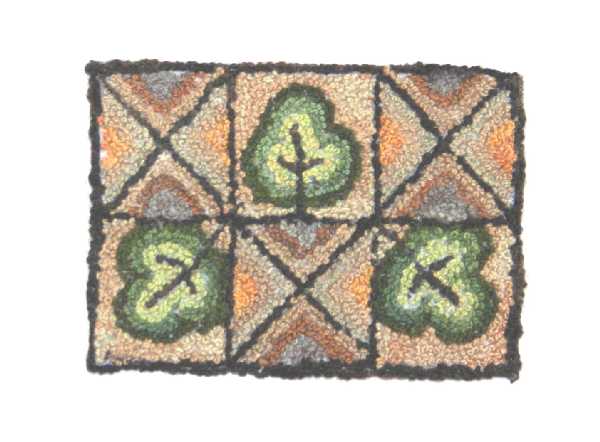 The class project was the little tombstone rug designed to fit inside a wall cupboard door by Barbara Vajnar, but I elected to forego her cupboard and plan to make my own. The rug on the right was meant to be a "practice" piece before doing th class project, and I worked on it for a day before starting the other rug. I can see the improvement in my knots over the course of just a few days! After I got home, I made another, slightly larger rug based on a familiar design: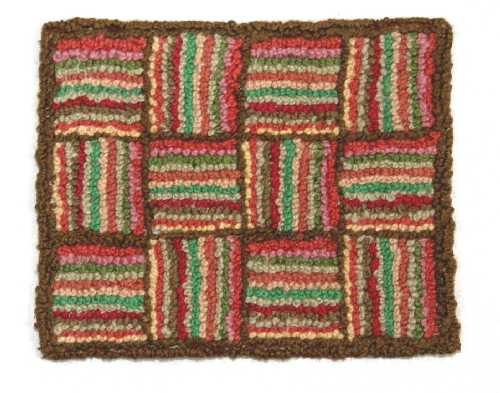 I already have ideas for larger rugs and look forward to purchasing some over-dyed skeins of floss. This last rug was made using 30-year-old Flower thread I had on hand that looks a little more like wool but also makes a slightly larger knot due to its thickness.
Not only did I find it a bit overwhelming to be in the midst of so many people at once, but to be among so much talent all in one place was truly humbling. I sat beside people who are Artisans and Fellows and felt totally out-classed when I saw their work displayed in the gallery during the earlier part of the week.
I did not enjoy the live auction event. There were some really nice things on offer and prices were high (as I had been told to expect), but that was not my issue. As someone who regularly works in the auction business, I quickly got annoyed with the utter chaos that reigned during the calling of the bids. Bill Robertson introduced his sister as the auctioneer for the evening, but continually jumped in and took bids at the same time she was trying to see bidders and call the auction. There are few things I can imagine as confusing as two auctioneers selling the same item at the same time. Several times it got so confused they had to start over so I felt like the evening dragged on unnecessarily. Others were quite good-natured about it, but it bothered me, the room was getting very warm, so we left after about 20 lots.
The other thing I didn't like about the auction was that the very best items offered in the sale were purchased for someone who was not at the Guild School that week. Someone in the audience was bidding for Kay Browning and apparently told so many people about it that the next day at lunch, everyone knew what she got. I appreciate that the primary purpose of the auction is to raise a lot of money to help the Guild School scholarship fund and to try to keep costs down for those attending, but I don't think it's fair for someone who doesn't take the time or invest in the expense involved in coming to school to be able to purchase things in the auction. It should only be for the people attending in person, so I think it's wrong that she had someone buying the best things as her proxy.
On Thursday evening, the teachers set up a small show/sale in the gymnasium and I was able to buy a pair of chairs from Mark Murphy (whose table was quickly sold out) and a folk painting and painted wooden table top box from Mary Grady O'Brien. I knew she would not be at the Guild Show in Teaneck in August, so I made a point of buying from her at Castine.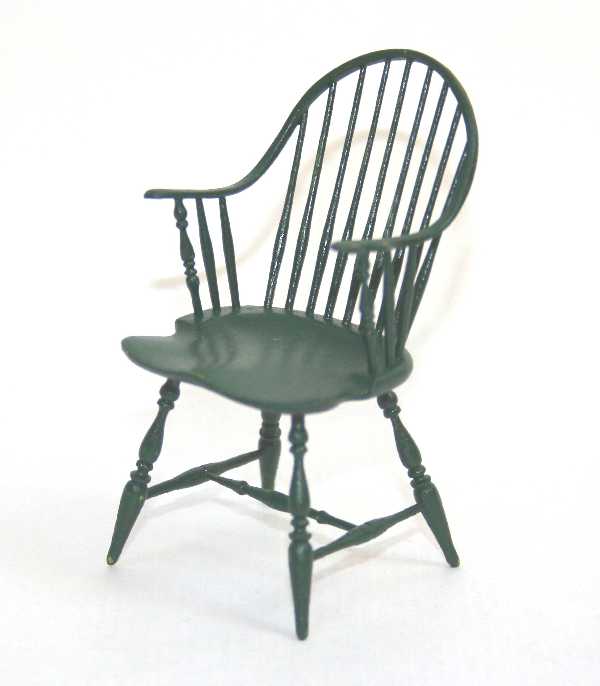 One of the two green Windsor chairs I purchased from Mark Murphy.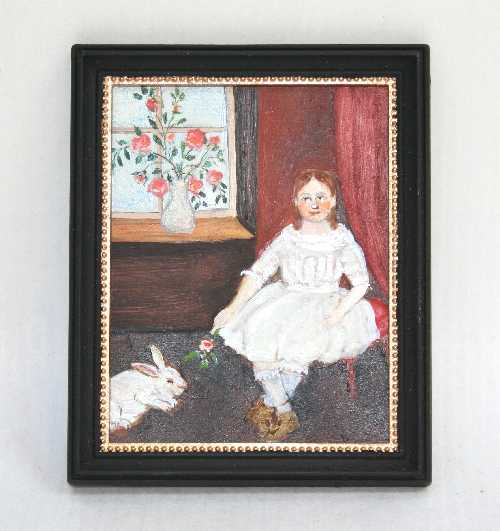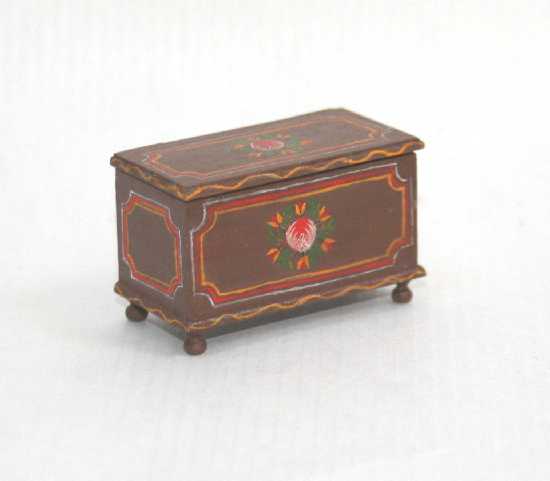 I met Anne Day Smith, who used to write for Nutshell News and Miniature Collector and she is going to be writing some artist profiles for MC in the future. Throughout the week in Castine, I heard numerous people comment about the decline of Miniature Collector and several people I spoke with told me they let their subscriptions run out because the quality has become so bad since Barb Aardema retired. I was glad to learn I wasn't the only subscriber to notice and be disappointed by the downward trajectory of the magazine. I have some comments about the editorial content in the section below.
It was an exhausting week and I am uncertain about returning again. I did meet some very nice people, and when I mentioned some of my disappointments to the Yahoo Petitpointers group on line, several of the folks I didn't really get a chance to get to know, wrote very encouraging posts urging me to return for another try. Maybe. We'll see. (6.27.2016)
*****
I want to share a recent experience I had with the new editor of Miniature Collector magazine.
As I was coming to the end of my reconstruction project involving Mary Kaliski's huge Victorian mansion, I was contacted by the new editor of the magazine asking me when was I going to have another auction. For some reason he thought I was an auctioneer. I corrected him and then mentioned that my Swedish farmhouse project might interest his readers as Mary's articles and photographs had been a fixture of the magazine for so many years, and MC ran multiple auction recaps when her collection was sold after her death. He asked me to provide some photos of my project so he could discuss it with his editorial board. What board? He is the only editor. There's an art director who lays out the magazine and there is guy who sells ads. That's about it. If you check the most recent table of contents, they had ONE contributor and Stan wrote all the rest of the copy.
If you have been a subscriber for some time, you have seen the magazine become very thin these days. The thickest issues are those with multiple ads for the big miniatures shows. Over the past few years, I have watched the emphasis shift from profiles of fine artisans and great collections to amateurish "show 'n tell" photo spreads with poor quality pictures submitted by readers accompanied by captions full of errors and incorrect attributions of artists' work. People who send in their photos for the "theme" issues are paid nothing. I doubt they even get a free copy of the magazine to send to their mothers. But the magazine gets free content that they then sell to their readers.
Once in a while they cover a dollhouse exhibit somewhere and they repeat whatever it says in the press release from the organization without any fact-checking or spelling makers' names correctly. An example from a few issues back was the exhibit of some Swedish dollhouses at Bard College's exhibit space in Manhattan. An antique dollhouse was featured and the magazine'stext appeared to be copied verbatim from something provided by Bard. It said all the furnishings had been handmade by a teenage boy, yet the house was filled with commercial German furniture, including the wall telephone we see in every other antique dollhouse, but which the "curators" of the exhibit stated had been made by this boy. It's not the first time the magazine has repeated incorrect information and I'm sure it won't be the last.
That's not the thing that really irked me after my contact with the editor. No, my issue is that when he came back to me and said they would like to publish such an article, I spent weeks of my time taking photos and writing enough text for TWO articles - one about the reconstruction and the second about furnishing the house. After I submitted the articles and photos, he came back to me with a release document to sign. I wrote back and said the document said nothing about payment. That's when he told me they wanted to run the article as one long piece because their readers prefer to read the story in one issue instead of serialized over two or more issues. And he offered me only $100 for the entire thing.
Let me take you back to 2002 when my first article appeared in the magazine. It was about Tynietoy furniture and in those days, I used a 35mm camera and mailed actual photos or negatives to the magazine, at my cost. I was paid $250 for that and for subsequent articles for almost ten years. Then toward the end of Barbara Aardema's tenure, they started cutting the payments down to $225 and gradually lower and lower. I stopped writing full-length articles and focused on one-page articles about vintage artists and interesting auction purchases. One of the last submission I sent to Barbara Aardema was when she asked me for photos of Roger Gutheil furniture to illustrate her article about him as the Gutheils retired. Before I was paid for my pictures, Barb retired and her replacement, Cindy Erickson, told me Barb had left no instructions to pay me. It took several months to get paid after Cindy said they did not want to pay me anything at all. I had to point out to them that Barb had contacted me asking for photos they could use and that I had not just sent them in unsolicited. After that, the only things I sent to MC were some write-ups about the Rhoads auctions where instead of just quoting the catalogue descriptions and the hammer prices, I tried to make it interesting by explaining the action on the floor and whether items sold on the phones or Internet, etc. MC never paid me anything for that work because they felt they were giving free publicity to Rhoads. I had to haggle to even get my byline on them.
And one more thing. When I was writing regular articles of MC, they would mail me three complimentary copies when the articles were published, along with a form for ordering additional copies if I wanted them. Then one day it was just one complimentary copy, and with that copy came something very interesting: a list of all the contributors for that issue and what they were paid. Someone made a mistake and sent me that list instead of the order form. And I learned that other people had been paid significantly more for their articles about plastic dolls and furniture from the 1950's than I had been paid for my article about artisan furniture. It was the last time I wrote an article for them.
So with this background, you may understand why I was stunned and then really annoyed to be offered only $100 for the equivalent of two full-length articles that were much more than just an inventory of the artists represented in the furnishings of the house, or a tip of the hat to some dealer or shop where something was procured. I told Stan no thanks and several days passed before he responded to say that surely I must be aware of the changes in print journalism and that they could no longer afford to pay me at the rate they had paid me 14 years ago.
That was an interesting argument, considering that I still get paid quite generously by the other magazine I write for regularly. They don't seem to be in the same cost reduction mode as MC. Stan made it sound like he had worked some kind of miracle to get me $150 for the article. I turned that down as well and said I would take $250 for the double-length article and that I considered that roughly a 50% discount.
That was three weeks ago and I never heard anything back from Miniature Collector. I'd say that pretty much marks the end of my frustrating relationship with them. I want to thank all the people who have come up to me at shows and auctions to tell me they appreciate my articles and how helpful they found them. To me, that appreciation was as important, or even more important than any financial compensation I received from Scott Publications. I have published the entire article right here on my website, rather than accept an insulting token payment from Miniature Collector. (3.13.2016)