The Guild Show August 2016
I've got into the habit of rushing through the one-hour Preview in a bit of a whirlwind and spending most of my money within the first 20 minutes after I get through the door. And that's just what I did this time when I spent half my budget at the table shared by the needleworking ladies: Annelle Ferguson, Pat Richards and Pat Hartman. I bought one thing from each of them and I felt like I got the very nicest things at the show. Perhaps because I do some needlework myself, I have a sincere appreciation for the fineness of their work and the immense time it takes to complete such lovely things. I also found a handsome cupboard by Mark Murphy with Gothic arches - it took me all of one second to decide I must have it. So I wrote a very nice check there before making other purchases from Karon Cunningham and the Gallery of the Guild. I ordered a pitcher from Lee-Ann Chellis Wessel and also bought from her a table by Mark Murphy, so I came home with two of his things despite the fact he cancelled his appearance there (and also the class I was enrolled to take with him, alas!). It was disappointing that he wasn't there, nor was Jack Cashmere or the Boorums. This was the first time in quite a while I did not buy any ceramics, but I loved the things I got.
There was a little more of line of people waiting for the doors to open than I recall from the last time I was there two years ago, which is a good thing, I think. But I also noticed no real change in the volume of people in the aisles after to doors opened to the general public at 10. I don't know if there was a line, but I hope so.
I joined my daughter for dinner on Friday evening and asked her to meet me in the hotel lobby. She waited patiently while I was showing my most recent completed French Knot rug to Pat Hartman, who was doing a live demo. When I looked up and saw my daughter waiting, I joined her and as we exited the building she exclaimed that she had to be the youngest person there and that she thought everyone she saw in the lobby was 80 years old. She is 31 and not a keen judge of older age, but she certainly had the impression that this hobby was exclusive to retired ladies. And when she dropped me off after dinner, she noticed a sign for a nearby senior housing center and quipped, "Well, isn't THAT convenient?" Yes, it was pretty snarky but I think there was an underlying truth in her observations. I was right out of college when I first attended a miniatures show and in those days, there were plenty of gray-haired ladies in attendance, but there were also collectors in their 30's and 40's to balance things out a bit.
We talked about hobbies in general while we were dining and aside from a voracious appetite for classic movies and an enduring interest in American presidential history, her only hobby is destination hiking on the weekends. She mentioned that many of her friends from college are still in debt and have low incomes if they are working at all, so they didn't have enough money to indulge in a hobby that she deems expensive. I find my budget is considerably better now than it was when I was younger, and I used to save all year for the Guild Show when I was in my 20's, and felt guilty about some of my spending in my 30's when I raised my daughter. I've tried to interest her in miniatures all her life but I now accept she has no interest but appreciates that some things certainly have monetary value beyond their artistry. I don't lose sleep at night worrying that my collection may end up in a yard sale one day, but it's also not something she wants handed down to her.
She enjoys showing my dollhouses to young guests who visit me in the summertime and some of my visitors are pretty keen on them while others want to know where is the treehouse? I wish I knew how to get younger people involved in collecting and creating miniatures. Little boys still collect baseball cards but nowadays they go buy the entire year in one box on a single visit to a hobby shop. That sounds a bit sad, doesn't it? I wonder if the relative affluence that allows older folks like me to spend so much at a show or to buy nicer things for our homes and take vacations seems like a distant and unattainable goal to young people today who might otherwise be developing into serious collectors? They are just worried about paying off student loans and some even say they doubt they will ever own their own home. Makes me feel somewhat guilt sharing my photos here of the things I purchased at the Guild Show this year. But here they are: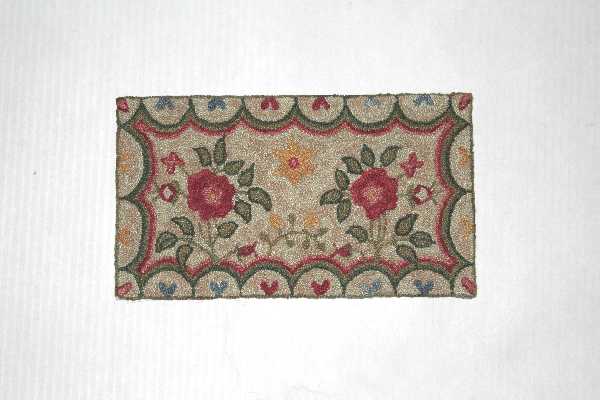 My heart leapt in my chest when I saw the colors of this French knot rug by Pat Hartman and without any hesitation, it was my first purchase at the show. It's my favorite rug.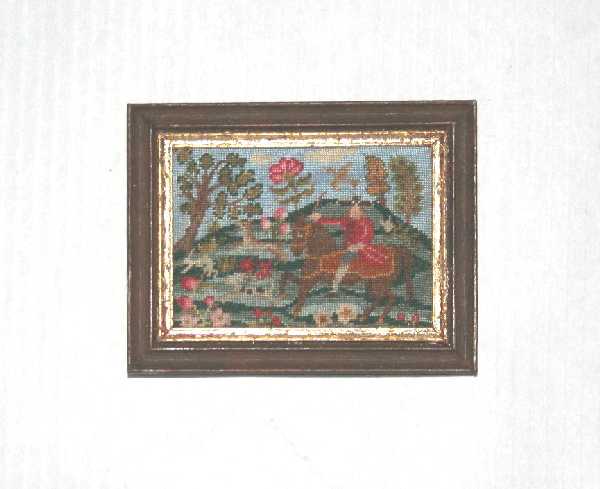 The focus in this picture is not good so the detail isn't showing up, but I was also swift to scoop up this framed petitpoint picture by Pat Richards of a gentleman on a prancing horse. It's a nice size that will easily fit just about anywhere.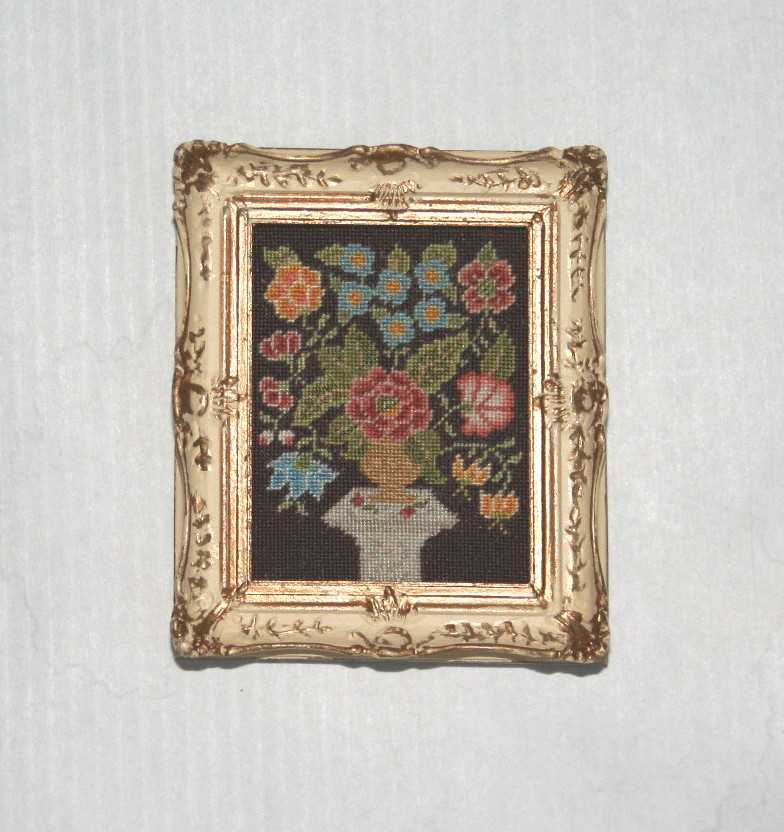 My next purchase was this framed petitpoint by Annelle Ferguson. I'm not that keen on the frame and may paint it over, but not right away.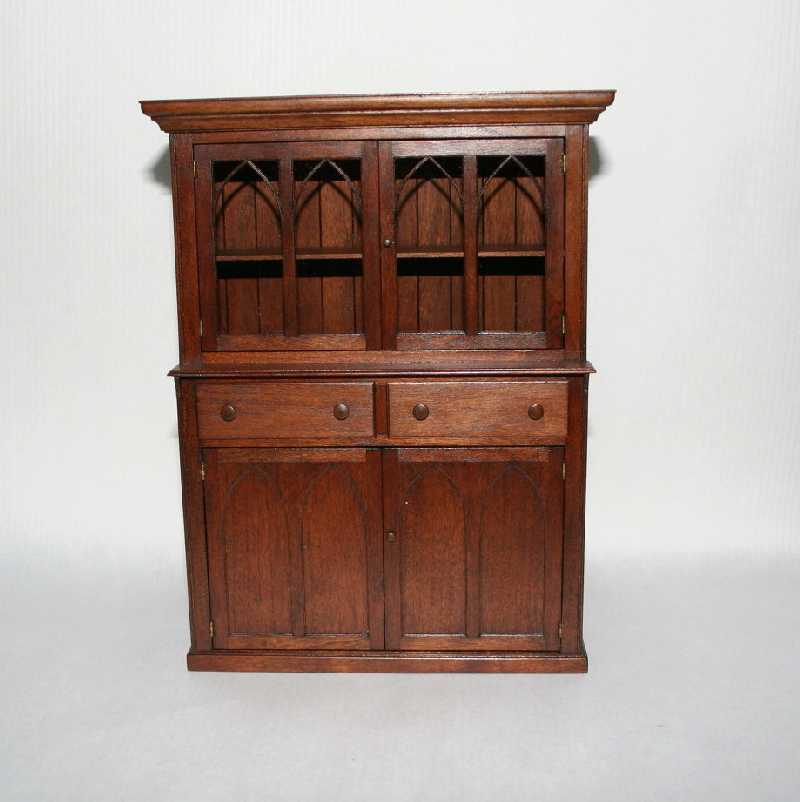 This mahogany cupboard by Mark Murphy seemed a little unusual to me, but very English and so I was drawn to it as soon as I made my needlework selections. Mark was not at the show and I heard he had suffered an injury to his hand. But I was so pleased to bring home something he made from this show.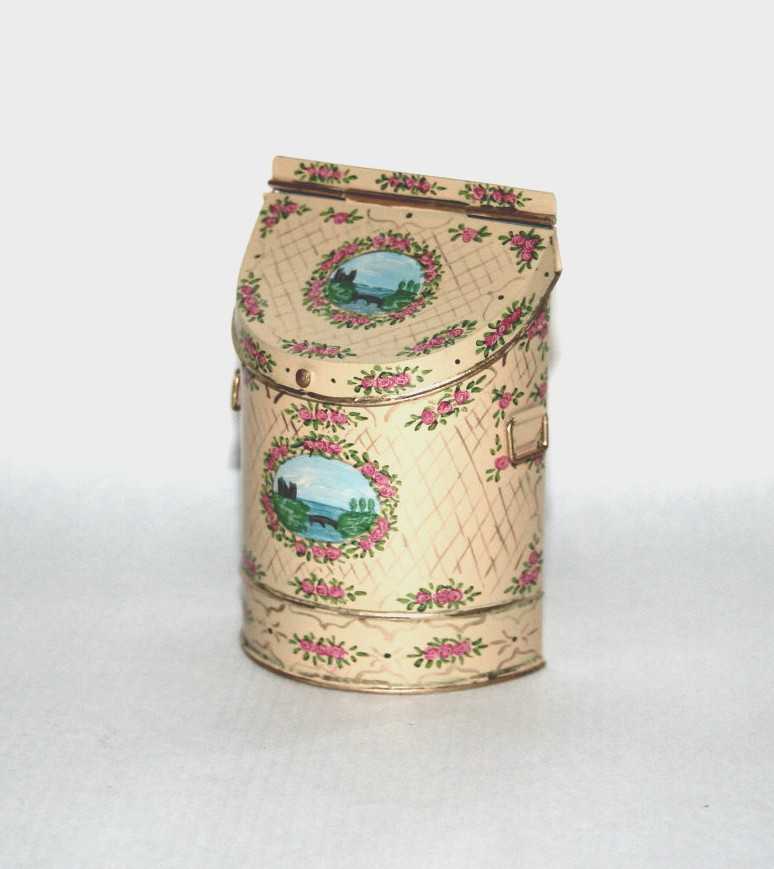 This pretty painted tin flour bin is about 2.5" tall. I noticed it right away when I stopped at Karon Cunningham's booth and love the painted decoration.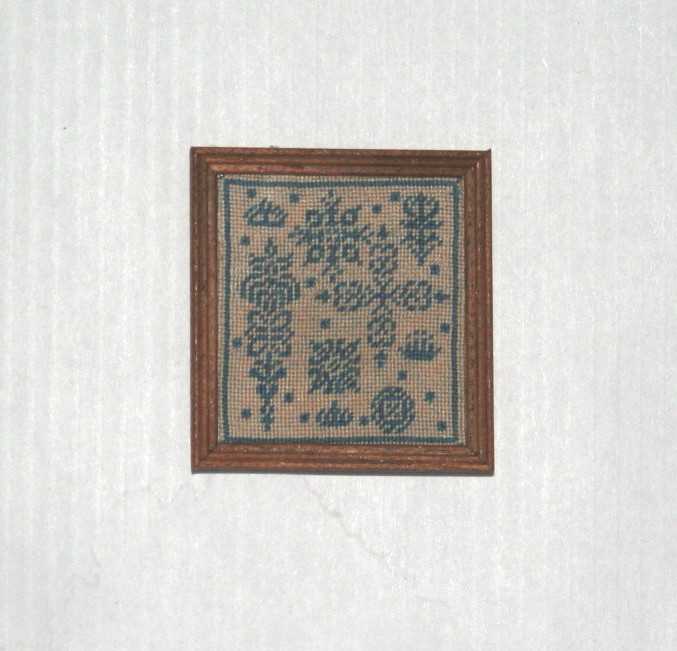 Karon also offered this small blue and white sampler by Deirdre Carpenter. It will find a new home in my Swedish house's kitchen.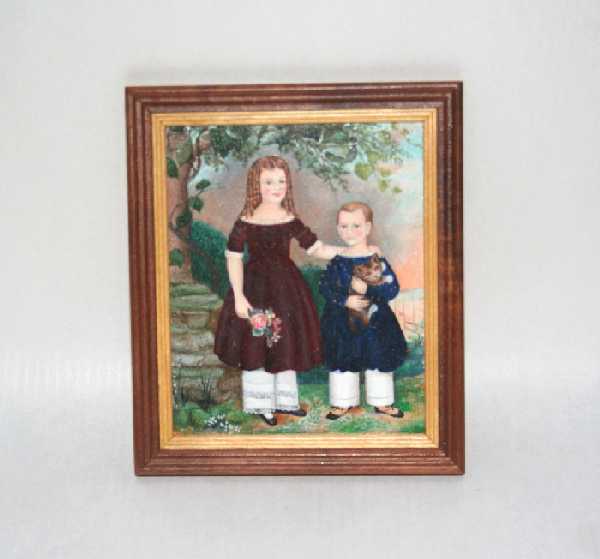 Again, I have to apologize for the poor focus on this lovely painting by Phyllis Hawkes. I dropped my camera last year and my close-up focus has been tricky since then. Anyway, this was the artist's submission when she applied for Fellow status in the IGMA a few years ago, so it has special meaning to me and was my most costly purchase of the day. Totally worth it!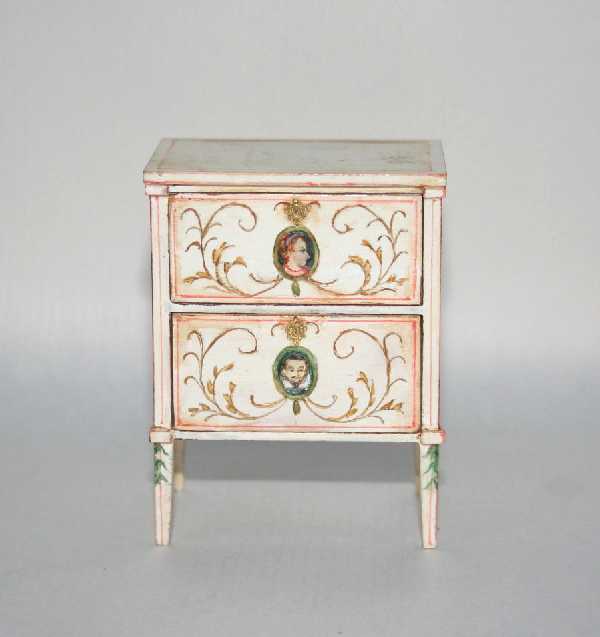 I did not get to the Gallery of the Guild's table until after 10:30 and by then a lot of things had been sold. But I was very pleased to see this Janet Reyburn piece that is so similar to the one I ordered from her last year. Now I have one on each side of the bed in my Swedish house's master bedroom!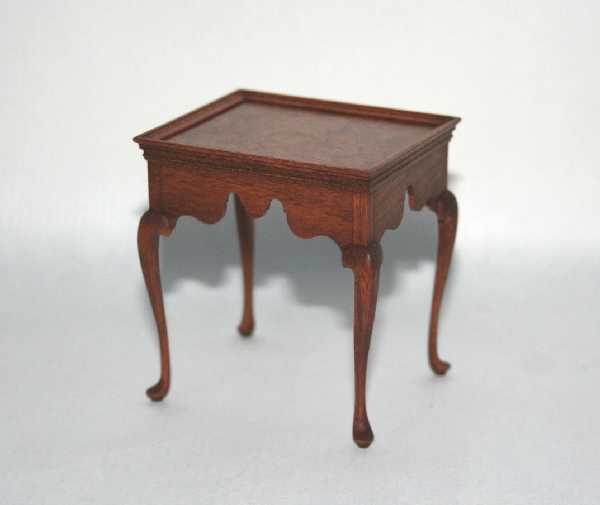 This tea table by Mark Murphy was in Lee-Ann Chellis Wessel's booth a the show. I ordered a painted jug from Lee-Ann and also bought the table to take home. Later, someone told me it was a prototype for a class Mark previously taught at Castine. I love the deeply scalloped apron.
The Guild show is moving to Hartford, CT next year. It is further away for me and for a lot of other people, but I am still glad it is going there. I've always found the highway traffic super stressful around Teaneck and the whole area of norther New Jersey, and I'm told the new hotel is much less expensive for both the ballroom rental and rooms. I heard the available tables were sold out very quickly and I look forward to seeing some artists who will be doing this show and have not been regulars in New Jersey. I can't wait. Meanwhile, I'm looking forward to Philadelphia in November. (8.19.2016)
Eileen Rhoads Auction May 20th and 21st, 2016
It's been a bit hectic here since the auction as I have hosted a whirlwind of guests and been preparing for my first week at the Guild School in Castine, so my first impressions about the auction have faded a bit.
There was very strong attendance at the preview Thursday afternoon with all indications that there would be a good crowd Friday morning when the antique and vintage items were offered. Some antique dealers who have kept low profiles in recent years showed up for the sale, and there was intense phone bidding for the rarest antiques on Friday. At least one well-known dealer had been able to preview privately beforehand and was actually bidding on the internet, but the folks who showed up in person took home a lot of items at the end of the day. The second day was devoted to mainly artisan objects and there were fewer lots than the first day, so attendance was a little smaller, but the internet bidders were busy.
As for my own consignment: as one would expect, some things did better than expected and some disappointed a bit, but I always take the broader view and overall I was pleased with the results. I know where some of my things ended up and am pleased to know they will be looked after appropriately. Quite a few of my Tynietoy lots went to Ann Meehan, so if you wanted some of the items individually, you should check her website.
A few things did surprisingly well, like my dollhouse dolls in original outfits and the room boxes I made just for the auction. My antique English houses all did very well and sold for considerably more than I paid for them, but I had hoped my big American houses would do better. The Mystery house was not sold but after it came home, I sold it on ebay.
The marketplace is still pretty tough on big dollhouses, both old and new, and the buyers who were in a frenzy to own Tynietoy and Mystery houses ten or twenty years ago are just not buying the same way anymore so I have to say these results did not surprise me that much and are simply reflections of the market as it exists today. I am so relieved to be free of all my antique houses but two, and have no regrets at all about selling their contents. I kept some things I've been especially fond of, but I really wanted to unload all my commercial German furniture and accessories. You see those same pieces in one dollhouse after another and I'd rather have something unique and unusual. I still find space for hand-painted treenware, original artwork and needlework, pretty dolls and things that have meaning. Just as when I sold my huge Gottschalk and Hacker houses in 2008, I was happy I had the chance to own and play with these more recently sold houses, but I don't really miss them that much.
The other major consignor, Elizabeth Hamilton, did very well with her houses, considering the marketplace, and I understand she was pleased with the results. Since I bought many of my old things either privately or at auction, I seldom paid high end retail prices the way Ms. Hamilton did. She bought from dealers at the top of the market and in a situation like that, a collector should not expect to get back the full amount they paid for something. So she came out behind on some things, but still did very well on one smaller dollhouse (I'm telling you, smaller is the way to go!) and several of her early dolls did amazingly well, especially considering some had been repainted or redressed. Her Evans & Cartwright kitchen range was a blockbuster hit at $1900 plus premium, while a pair of E&C chairs that had been completely repainted sold quite modestly.
The huge Lawbre houses that were offered on the second day sold for reasonable prices, but well below their original retail cost. Again, not many people have room for a big house, even when it is a "limited edition" by the best commercial maker in the field. The LE Tudor house had a highly detailed and appealing exterior, but the interior had a staircase that went nowhere and some genius had snipped off several of the chandeliers. Sometimes I want to shake the dollhouse builders and tell them to stop making dollhouses that are left open in the back. It uses up an inordinate amount of space to have access to both sides and an open side accumulates dust in no time at all. I won't buy a house that doesn't open in the front. There are enough houses that open conveniently from the front that I don't waste the space or my time on open-back houses. Wake up, Lawbre and friends!
The other large house that had some folks scratching their heads because of its massive size, was the beautifully hand-crafted one-of-a-kind Charleston townhouse. While it was an engineering marvel with its interior totally separate from its exterior shell, the gorgeously detailed period rooms were only accessible when the interior house was raised up above the facades and awkward to get to even then because of the front porches and landscaped base. It sold for $3000 plus premium.
As a buyer, I think the prices for the artisan furniture were reasonable this time. Most of the fine artisan miniatures came out of the Charleston house and the amount of artisan miniatures in the sale was not as large as some other sales. So I was pleased to take home BOTH the Patrick Puttock cabinet AND the table, and I also bought David Booth's unusual sideboard with a pair of fabulous Obadiah Fisher candlesticks glued to the top. When I got home, I was able to gently pry them off the top with a palette knife and discovered that the adhesive used by the previous owner was dried out rubber cement. The mark left by the glue was easily removed with rubbing alcohol. I was able to achieve the same results with the glue stains inside the cabinet, and removed the Vince Stapleton vase of flowers on the Puttock table, but am waiting for a replacement glass shelf for the one that was broken in the cabinet. I also purchased a set of Betty Valentine chairs and several items by Dennis Jenvey. I made a very satisfying purchase when I bought an antique bookcase from one of Vivien Greene's houses - I had been the underbidder when it was sold at Theriaults a few years back. It was one of those rare days when I got everything I wanted at an auction!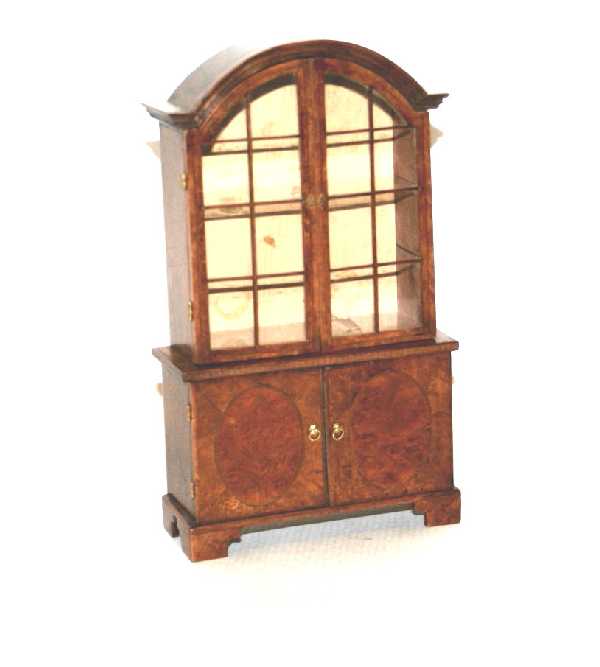 This photo was taken before I removed the glue stains on the back on the interior. The lower doors feature burled walnut inlays and the overall coloring and patina are a delight to me.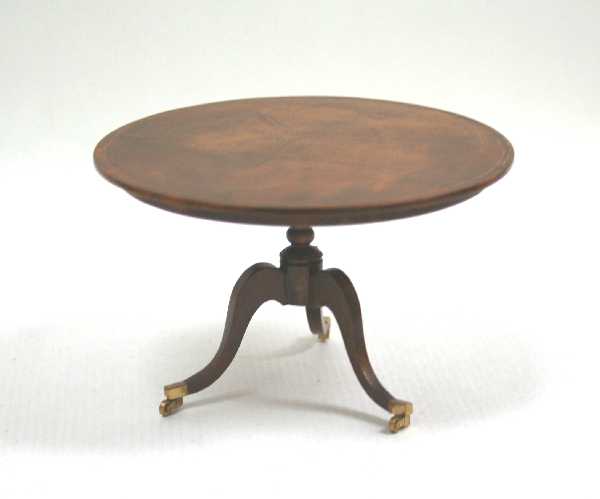 Burled walnut marqutery also features on the top of this elegant table by Patrick Puttock. At the moment, I don't have a house fine enough for it but I had to have it.
These are the four roomboxes I sold at the Rhoads auction.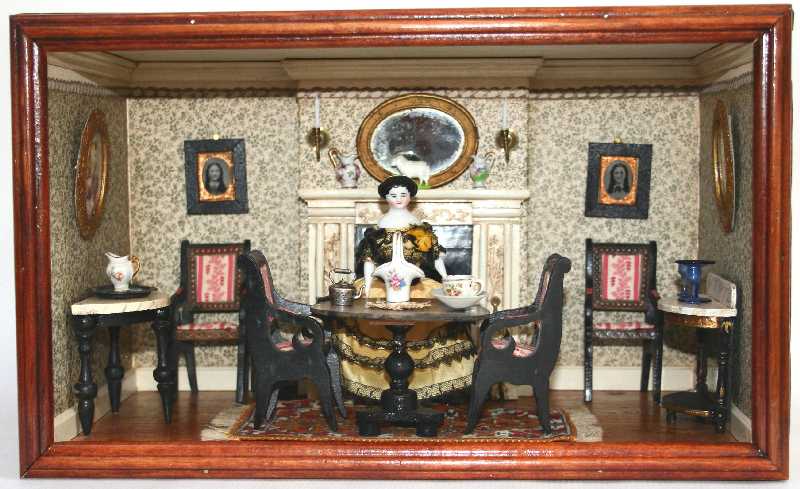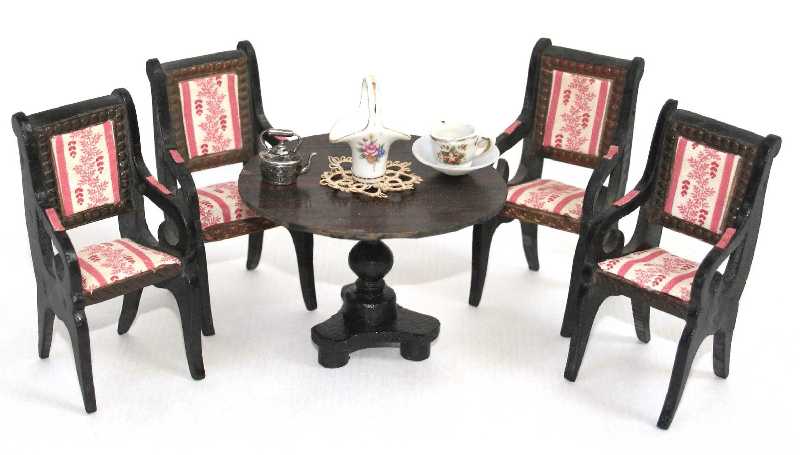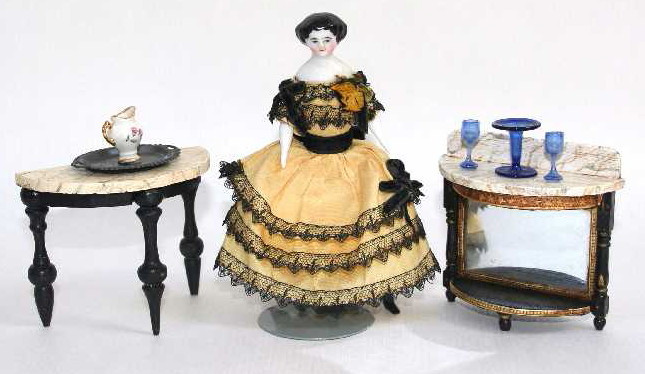 I made this little room from an old wooden packing box that a college professor gave me in my freshman year at NYU. Underneath, it still has the mailing label for the Chem Dept at NYU and was used to ship some bottles of something that probably smelled bad, but the box smells just fine. To wallpaper the walls, I used some sheets of decorative book liner paper that I cut out of some old hymn books that had been thrown out on the sidewalk during the church's big clean-out. The pattern is so tiny and quaint, I couldn't resist. The fireplace came from Hamley's toy shop in London and I furnished the room with some old pieces from a box lot I purchased years ago. I re-upholstered them with antique fabric, and I made frames for some old tintypes to hang on the wall. It's quite small and fits easily on a bookshelf.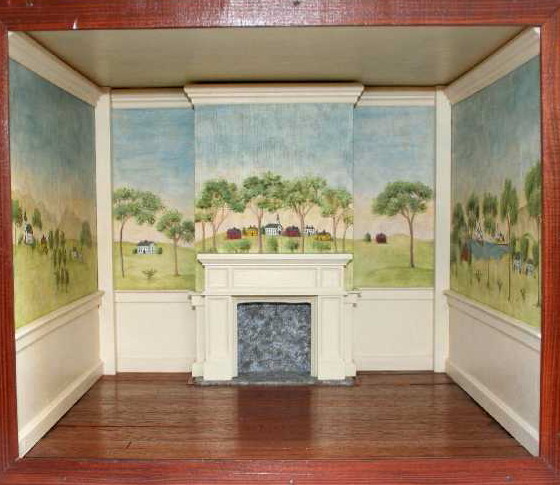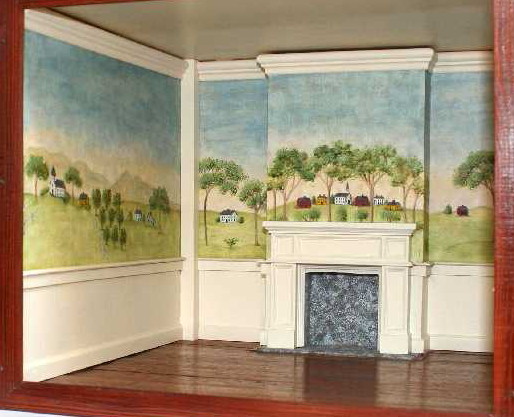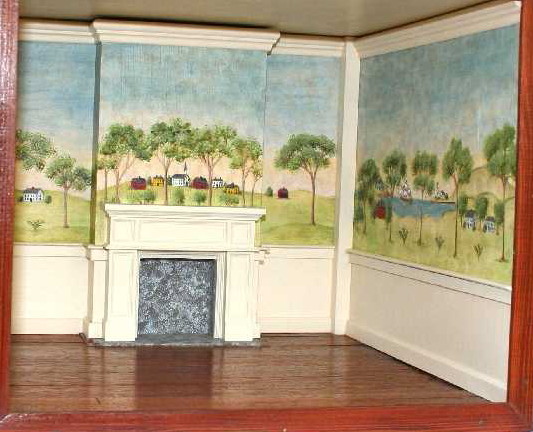 The next box I made was constructed by my husband from some very good quality plywood that we salvaged from the shipping crate that contained my second TynieToy Mansion when it came from California. I painted the walls and chimney breast with a mural inpired by Rufus Porter and used a fireplace mantel from yet another old box lot. The floor boards are individually cut and laid using old mahogany from some warping boards that came with an antique floor loom I purchased about 20 years ago at a local antique show.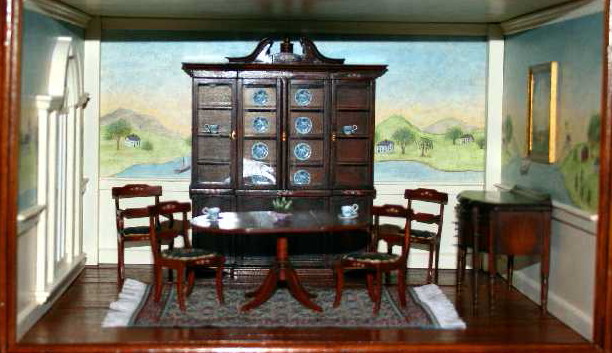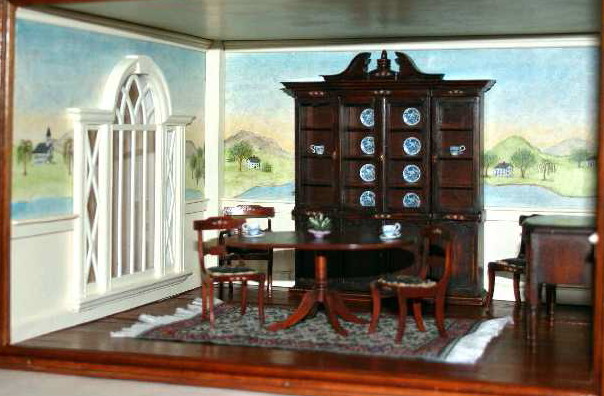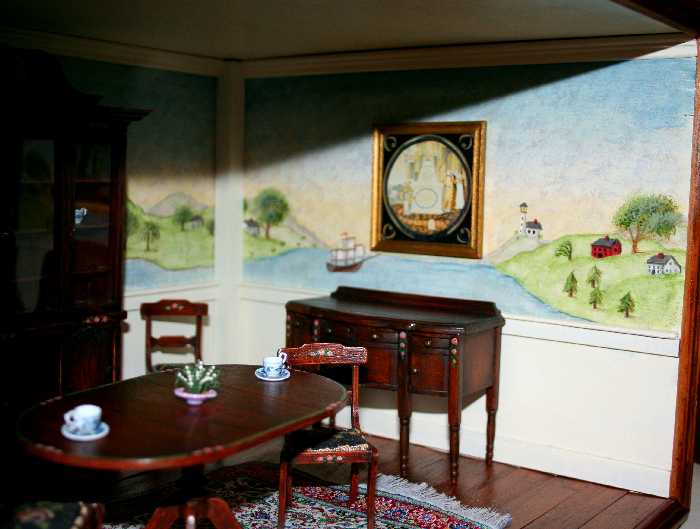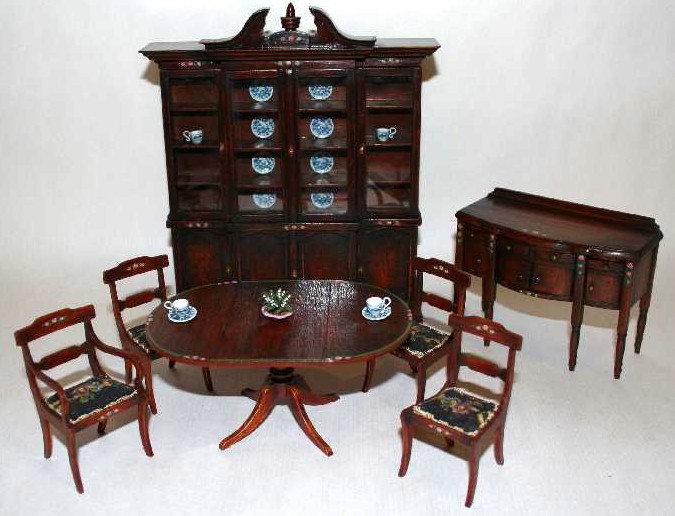 The third box was made specifically for some dining room furniture that had been homeless. The breakfront and sideboard were leftovers from box lots and the table and chairs were made up from Anglesey kits I purchased in London years ago. I refinished the serving pieces to match the table and chairs and added some painted decoration. The seats are upholstered with antique petitpoint from the handle of an old purse, and the window was a pre-made one I had sitting around in a cupboard for a few years. Again, the floors are individual mahogany boards and at the last minute, I added the murals over the chair rail after deciding I would not use wallpaper.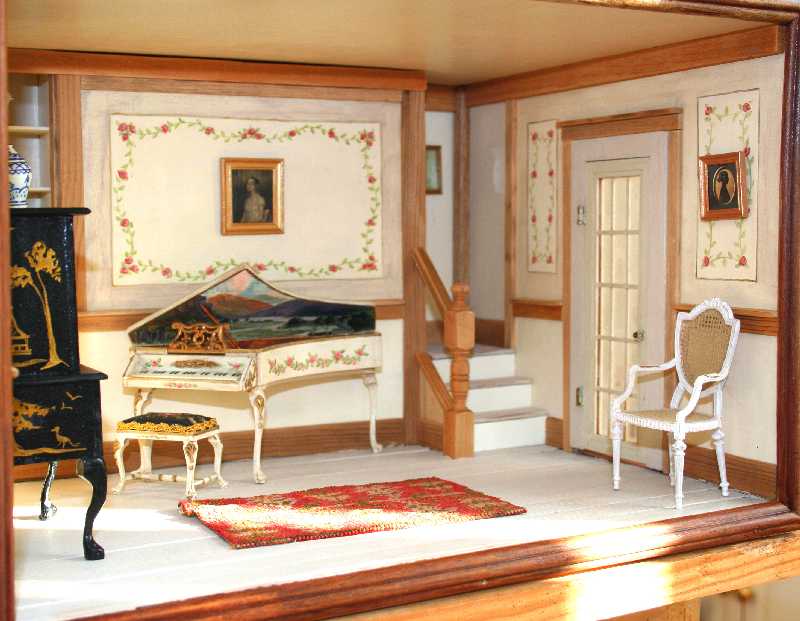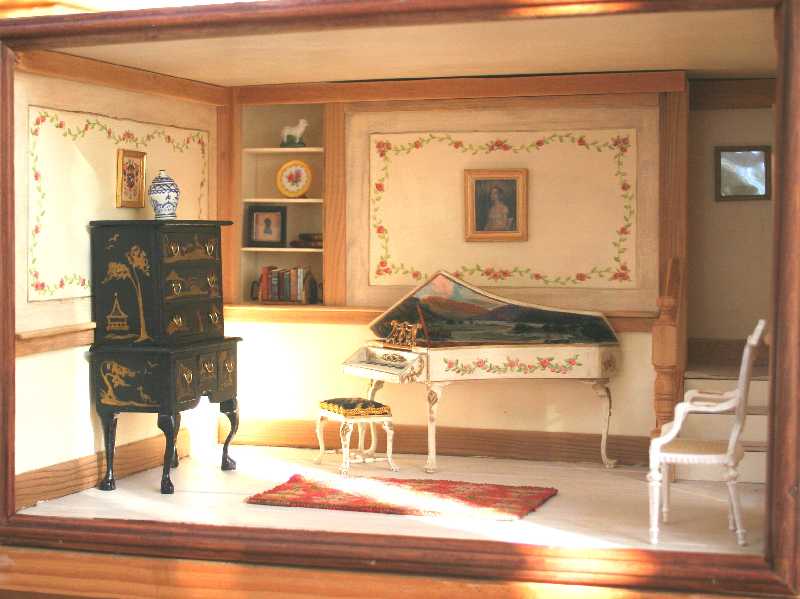 The last room box was designed as a music room for the harpsichord that I purchased at a Rhoads auction some years ago. I hated the olive green color that Elisabeth Andrews had painted it so I left the underlid painting she did and re-painted the exterior and re-upholstered the bench with the same antique petitpoint I used for the dining set shown above. The highboy was made by Ruth Pollack and the vase atop it is by Jean Tag. I made the room to compliment the harpsichord and wanted it to have a Swedish farmhouse flavor similar to the house I recently re-constructed (see it under "My Collections"). The stairway newel post came from the same Victorian mansion I purchased from the estate of Mary Kaliski and I used weathered old wood for all the trim. After staining and varnishing the mahogany floor, it lloked too dark and formal so I painted over it with a light grey and that helps to brighten the entire room. The French door was recycled from a shop building I made back in the late 1970's and later disassembled. For all these rooms, I used recycled materials and accessories that I already had on hand and that made it more satisfying for me while getting rid of clutter in my studio! I hope the next owners enjoy them! (6.1.2016)
When you send your miniatures to auction
When you send a collection to be sold at an auction house, you often have the option of having a large collection picked up by the auction house and carried away in a van. In the case of estates, it is not uncommon for the auctioneer to do the packing as well as the hauling, but many times a consignor packs their own things for shipment or hauling. I have seen a vast range of packing techniques used by different folks over the years and would like to offer some suggestions for anyone faced with packing up a substantial collection, from my perspective as a person who often ends up unpacking and cataloging a collection.
Inventories
Yes, it's nice when you have an inventory of a collection that may include information about provenance, if items were made to order by specific artists, or if something was made at a class, etc. It's particularly helpful when a collection has a lot of vintage artisan pieces that may be unsigned, or made by someone who was not that well known. Unless a piece was painfully expensive, the auctioneer doesn't always need to know the purchase price, but it doesn't hurt to include that information. An inventory is not helpful when it has incorrect information, or when it is excruciatingly detailed, particularly if there are a lot of commercial items included. You really don't have to tell a GOOD auctioneer if it's Bespaq or Shackman or Sonia Messer.
When there are multiple items of things like pottery or silver, you might list each item separately for your own records, but it only helps the auctioneer to know that there are six plates by Stokesayware, or three Jane Graber redware pots, etc.
When packing items from a dollhouse, people often do a room at a time and then may include an inventory of the room while the contents might be dispersed into several different packing boxes. It is more helpful to make an inventory as you pack each box so the auctioneer can check as the box is unpacked to be sure nothing goes missing, and numbering each box as you go along is helpful as well. Inventories are a helpful way of giving the consignor a degree of security knowing that there has been a list made, but they are not as helpful in the cataloging process as you might think, particularly when a collection contains many small items of lesser value. By all means list your Herbillon and Gutheil pieces one by one, but don't spend a lot of time listing individual accessories or commercially manufactured items. It's just not necessary.
Packing
What IS essential is packing things so they arrive safely. It's disappointing for everyone involved when an item is unpacked and discovered broken. This happens when things are packed carelessly (often by someone who feels they have been burdened with the task of getting rid of things from an estate and they just toss unwrapped things into boxes) but it also happens when things are packed too fastidiously. What I mean by that is when too much tissue or bubble wrap has been wrapped tightly around every single items and then swaddled with tape. I have seen collections unpacked where every single plate or tea cup or book was stuck into a tiny plastic bag and then proved so difficult to remove that plates were accidentally cracked in half, or items flew out of bags and were lost forever. Bubble wrap covered with packing tape is a disaster for the person tasked with unpacking - the packing tape doesn't peel off easily so the bubble wrap starts to stretch and pull and the next thing you know, there goes a cabriole leg!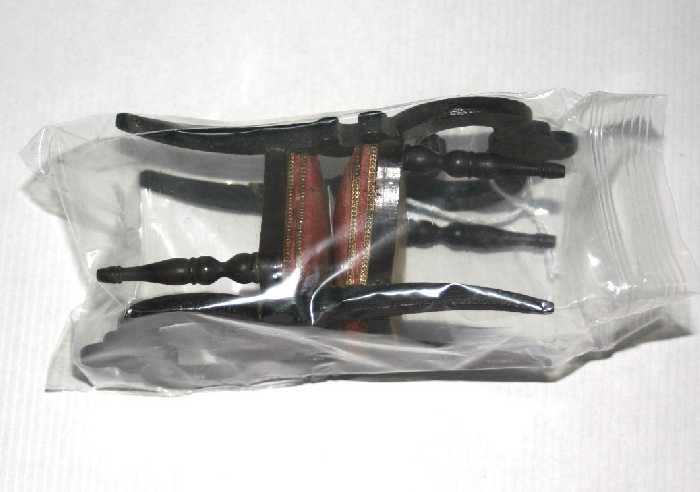 Here is an example of something I recently unpacked for an auction. While I have no problem with the way two chairs have been bundled together to save on space, there is no tissue paper or bubble wrap to protect them and the bag is too small. The only way to remove the chairs safely was to take a pair of scissors and cut the top off the bag and then slide the scissors down the side to open the bag carefully. This took 2 to 3 times more time and effort to unpack then something packed more sensibly. It may look tidy when you pack it this way, but you need to think about the person tasked with UN-packing your things and make that job as quick and painless as possible so YOUR things don't get damaged when they are unpacked.
Here is the way I like to pack things for shipping: Furniture items can be packed in loose tissue paper (I like to buy it at my local dollar store where I get 40 plain white sheets for $1) and it usually doesn't need to be taped at all if there are enough items to fill the box. Things are not going to unwrap themselves in the box! It just doesn't happen. Smaller pieces of tissue can be used to fill the spaces between table legs, etc, but the important thing is to not pack them too neatly or tightly - do it loosely so the air also acts as a cushion. Bubble wrap is okay but again, don't use packing tape to secure the bubble wrap . If you must use tape, use blue painter's tape or colored masking tape that peels off easily and is easy to SEE against clear bubble wrap. I can't tell you how much time is lost trying to see where tape begins and ends on a ball of tightly taped bubble wrap. When it takes ages for miniatures to be unpacked, the auctioneer is entitled to charge a higher consignor's premium for the extra labor required to unpack things that have been "over-wrapped". You can save in paper and valuable space by wrapping two matching chairs together as shown above, or placing a smaller item between table legs after loosely wrapping it in tissue. More care should be taken to make sure you pad the bottom, top and sides of the actual mailing box.
PLEASE don't use those dreadful polystyrene packing peanuts. They can shift during shipping and end up not protecting your contents after all, and they are a real nuisance when unpacking. They're lousy for the environment, too!
Many small and sturdy items can go into plastic baggies like, say, a set of wooden bowls or needlework, but make sure the baggie is not too small or snug - it is a lot easier to remove things from larger bags than from ones that are too snug. Also, if you have a loose piece that goes with something - like an umbrella with stand, or say you have a loose piece of trim that you want to send with the rest of an item - that should go into a baggy that gets packed with the piece of furniture to which it belongs so it doesn't get overlooked. Don't trust loose pieces to stay in drawers or cupboards.
Extra Care
Certain items do require special packing and that refers to things like chandeliers, floral arrangements and fine china. It's nice to have a small box for each individual chandelier, but you must be careful to not wrap them too tightly or risk damage. Tissue paper can snag and rip so I sometimes use a small, plastic coaled foam sheet or part of a dry cleaner's bag to loosely wrap a chandelier before gently sliding it into a box - the plastic slides off more easily than tissue when unpacking and it allows you to see what you are unpacking. Fine china also gets a little extra attention. I like to wrap things like plates together with a layer or two of tissue between each plate as I fold them all together in one piece of tissue that I then place in a generously sized baggie to keep a whole dinner service together. Large, bread-loaf sized zipper-lock baggies are nice because you can trap a little air in them for extra cushioning.
Before you tape up the boxes for shipping (if mailing yourself) remember to write a packing slip inside each box in case they are accidentally opened or damaged so they still have a chance of reaching their destination. If you must use up all your mailing tape somewhere, the outside of the mailing box is the appropriate place to do so. And be sure to insure the contents of every box - you KNOW that they are more careful with the boxes with INSURED stickers on them, don't you? (4.23.2015)
How an auction catalogue comes together
I wanted to take the opportunity to explain some of what goes on at an auction house as they prepare to sell a collection of antique or artisan miniatures. I've had the opportunity to work for a number of auction houses on the east coast in the past ten years and while they all have their own slightly different approaches, they all go through essentially the same steps.
First, when a potential consignor decides to either down size or completely liquidate a collection, one hopes they do a little research before choosing the venue. Some auctioneers have built their reputations on antiques while others have more experience selling artisan miniatures. If it's your stuff, you want the folks with the most experience and expertise because they will be the only ones to truly appreciate what you are bringing to the market, and they will know the best way to present it to the "right" bidders and where to advertise it. The one thing I stress over and over to collectors is that they should not send their collections to generalists: the local auctioneers who sells antiques, paintings, china, coins and household items in box lots - don't do it! They really have no idea what your things are or what they are worth.
Once a seller has an idea where she might want to sell, she generally sends an email or letter with GOOD quality photos to a potential auctioneer. If a collection has been featured in a magazine article or book, copies of the articles might be attached. A list of artisans or firms represented within the collection is also helpful. If the collection is a good match to the auction house, the auctioneer will respond quickly and contact the seller to discuss terms. If they don't think your collection is quite as wonderful as you think it is, you may not get any response at all. And right here, I'll mention 1970's to present day dollhouses and commercial furnishings:
If you have a plywood dollhouse made from a kit or manufactured commercially with mass-produced furniture from Asia - you will not get anything close to what you actually spent on it. The market is saturated with that stuff and it has very little resale value.
Auctioneers groan when they get those pictures of "the house my grampa built for me when I was a girl" and they see Shackman, Reevesline, Petite Princess, Lynnfield and Sonia Messer filling the rooms. Even Bespaq and its imitators have become so pervasive that their value at auction is not worth the time and trouble it takes to catalogue it. Sorry, but that's the reality of it. And that's becoming true for Olszewski/Goebel figurines. They were very expensive originally, but the market is now flooded with them. And Franklin Mint. Ugh.
There is room to negotiate when a collection is a good one. Some auction houses offer very attractive commission rates based on the quality and quantity of the collection and a seller should try to spend some time negotiating the best deal. The best deal doesn't necessarily mean the lowest seller's commission (the percentage the auction house keeps from the proceeds). Terms can include transportation, storage and insurance costs, and some auctioneers even charge the seller for the cost of advertising, so a number of factors should be weighed before making a decision. I find that during this process, some people don't do their due diligence - this seems particularly true when the owner of a collection has died or passed power of attorney to someone else to act on their behalf. Often, an executor just wants the estate settled as quickly as possible and makes decisions based on expedience - this is why I advocate for folks to sell their own collections while they are well enough to do so and not leave it to someone else after they are gone.
Once the terms are negotiated, a contract is signed. A really large and outstanding collection might be catalogued on site. For example, when famous museums in Washington and Delaware closed, a few houses went home with their curators but the rest were catalogued and some even photographed in situ. On the other hand, private collectors often inventory and pack their own items before shipping them to an auction house, or have the auctioneer pick them up in a van. Sometimes, a frazzled executor just tosses the furniture into boxes with little or no packing and borrows a truck to bring everything to the auctioneer, which is very sad. There are a number of different ways to handle it. But regardless of how it gets there, someone at the auctioneer's has to unpack, sort, catalogue and photograph the collection before it is offered to the public.
How does that process work? A few consignors provide detailed inventories and even preliminary identification numbers with their collections. Sometimes this can be helpful to the auctioneer, but it can also slow down the process when taken to extremes - not every single plate or painting needs to be wrapped in tissue, covered in tape, and then tucked into its own plastic baggie with copious notes. Yes, it's helpful to attach a sticky note that gives the name of the maker if it is unsigned, but it's not necessary to identify clearly signed items or to say in which room of which dollhouse it was displayed. It's okay to leave your price tags on, but understand they may be removed during cataloging.
And be aware that, particularly in the realm of antiques, you may have purchased an item from a dealer you thought was trustworthy, but the auction house may determine that it's not what you were told it was. I have seen too many items from prominent collections that contained things that were not what their owners thought they were. Sometimes things are heavily repaired, restored, repainted or simply made up from other things and consignors paid far too much for them thinking they were authentic and original. Many people in the auction world know the fraudulent origin of these items of dubious quality and when they get recirculated into the market through the auction process, a reputable auctioneer has a duty to be ethical in describing these items accurately, even when it means the consignor may be surprised and disappointed when their things sell for significantly less than what they paid for them from a well-known dealer. This scenario occurs far more frequently than it should and I feel the current market is rife with these detestable things as an entire generation of collectors have come to the point where they are now selling rather than buying.
Some of the larger auction houses assign an inventory number to each lot before deciding the actual lot number and where each item will appear in the catalogue while others, in the interest of economy and timing, assign lot numbers as they go along. It takes a lot of time to carefully unpack delicate miniatures and do a preliminary sorting to calculate how many lots there will be, how many days the sale will last, and if there are multiple consignors, how the items will be grouped. Should they be grouped together by consignor, should all the silver, all the dolls, all the paintings be sold together or interspersed? The answers to these questions frequently change and evolve as the sale comes together.
As the lots are sorted and the catalogue descriptions are written, each item is examined and identified by the cataloger - someone who is knowledgeable on the subject and knows the key words that should appear in the description so that Internet browsers will easily locate the item for bidders surfing the Internet. The cataloger takes care to examine each piece to determine condition and authenticity. Some auction houses do a better job of this than others. And some auctioneers will make repairs to items that have arrived in damaged condition and will state such in the description while others will simply offer the item "as is". Some places will charge the seller for any repairs needed while other do it as a courtesy - this should be addressed during the contract phase.
The consignor should trust the auctioneer to put the lots together in a way to achieve the best results - if you don't trust the auctioneer to do that, you probably shouldn't send your collection there. If a consignor doesn't trust any auctioneer to do it properly, they should simply sell it themselves. What could be more insulting to an auctioneer than to have a consignor second-guess the way they put the lots together or how they photograph the items? Or complain when the catalogue mentions that something has been damaged or repaired?
While the auctioneer is working for the seller, not the bidder, he always has an obligation to be honest and forthcoming about any known defects or issues - in most states, an auctioneer risks his license if he knowingly fails to mention any problems. Some auctioneers are scrupulous about this but, sadly, some are not. When a buyer discovers an issue after paying for something, it is a major headache for the auctioneer if he was remiss in mentioning it. Sometimes honest mistakes do occur and the ethical auctioneer will make good when that happens. Issues like this are one of the reasons there is a "waiting period" between the end of the sale and the time the seller is paid. The auctioneer needs time for checks and credit card charges to clear and any problems or misunderstandings to be worked out. When a buyer waits a long time to report a problem with a purchase, it is extremely difficult for the auctioneer who has already paid the consignor. If an item is returned for a refund two or three months after a sale, the auctioneer pays that refund out of his own pocket and then must find a way to resell the item. It's a real hassle and, in my opinion, thoughtless and unfair on the part of the dissatisfied buyer. When an auctioneer takes back something expensive months after a sale, it can be a painful financial punch in the gut. When he accepts a late return just because the buyer has spent a lot of money in the past, the buyer is basically behaving like a bully and I don't care much for that sort of thing. It's funny how bidders expect auctioneers to behave ethically, but some seem to make their own set of rules regarding their own conduct. Every auctioneer I know has had to deal with this issue. Please don't do it. If something's not right, address the issue right away.
Photography happens in conjunction with the lot assignments and the composition of the descriptions. It is not uncommon for some photos to be taken and publicized well before the catalogue is completed, to spark interest and give bidders a reason to "save the date". I am surprised at how impatient some folks can get about the release date for a catalogue. Somehow, a place like Theriaults gets away with mailing their catalogues only a week before the auction and I know of a number of folks who didn't receive theirs until the auction was over, including yours truly! Typically, a catalogue isn't ready until 2-3 weeks before the sale date - I know of no one who finishes it any sooner than that, yet anxious potential bidders don't hesitate to call an auction house to complain about how long it takes! At the same time, I've noticed that fewer and fewer people want to pay for a printed catalogue now that most sales are on the Internet and anyone can print their own catalogue from their own computer. Yes, it's nice to have a glossy, hardcover catalogue for reference but it's traditionally a money-loser for the auction house. They are VERY expensive to produce and more often than not, the auctioneer is stuck with a lot of unsold leftovers that make excellent doorstops...
So, the lots are numbered, the descriptions written, estimates calculated and the pictures are taken. Time to proofread and make sure the pictures match the descriptions and finally the catalogue gets uploaded to the Internet. Meanwhile, everything has to be moved into the auction hall and arranged for display - this is also a lengthy process and at a busy auction house, it can be tough to remove everything from one auction and set up for the next one within a small window of time. Some houses that only do 2 - 4 sales a year have the luxury of ample time for setup. But for all of them, setting up miniatures for display is an exhausting task! I really appreciate the work that goes into presenting someone's collection with such care.
Printed catalogues are nice to have. If you don't order one through the mail before the sale, they are usually available on site at the time of the preview. Just because you may be a returning customer and the auctioneer remembers your face and name, you shouldn't assume that you are entitled to a free catalogue. Yes, complimentary catalogues exist in this world and receiving one is a pleasure. I would just ask folks to remember how hard the auctioneer works to put together a miniatures sale, how many people and how much time are involved in transporting, unpacking, sorting, etc, etc. When it comes to miniatures and the amount of handling involved in presenting them for sale with an informative catalogue, please don't complain about paying a few bucks for a printed version, or paying the buyer's premium. Believe me, the auctioneer has earned every penny! (9.25.2013)